Update article
Content editing 2.0 - Pure content was yesterday. 📒✏️
In the course of constantly improving our product, we have been looking for a perfect successor to our content editors for a long time. So far, content editing was already in a good range compared to other products. Nevertheless we were able to notice one or the other inadequacy in the daily work with the editor through our own work with it and through valuable customer feedback.
This has moved us to look, in addition to initial changes to the existing editor, then in the long term for a real expandable alternative, which eliminates all the errors and unnecessary restrictions without affecting the many millions of deposited content.
After a corresponding test and transition phase with a small group of users, now the release for all users.
The new editor fits from the ease of use and in the arrangement of the button commands to the previous variant. This allows a quick transition in the way of working.
All existing functions were taken over 1:1 and improved in detail in the handling. From now on, among other things, it is much easier to embed videos from YouTube and Vimeo, or even manual work directly in the HTML area smoothly to meet even professional requirements. Likewise, the editor is also usable on the smartphone and thus allows, for example, the publication of content from the cell phone.
Further down you will find a small overview of the new and changed possibilities.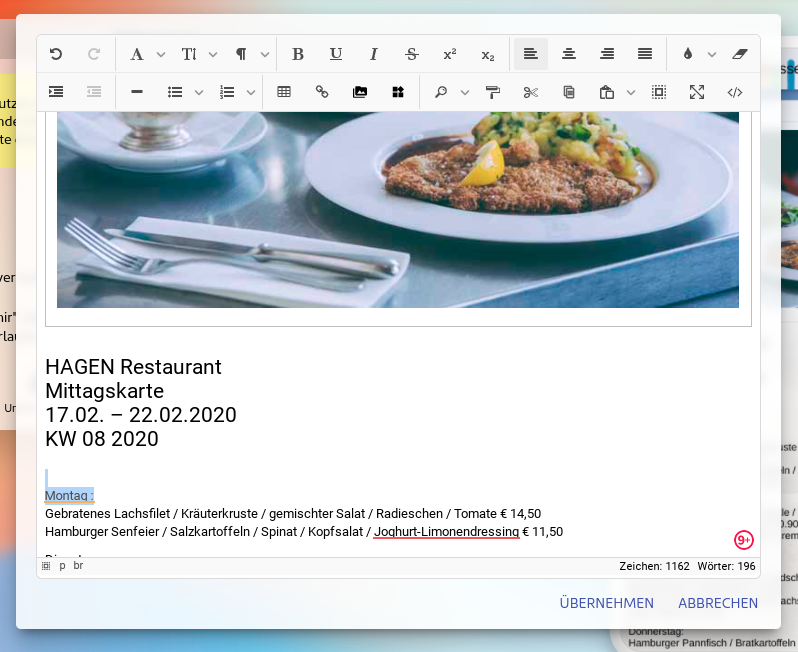 The following additions and changes will still find their way into your content editing with the new editor:
Easily insert YouTube and Vimeo videos via link.
Links that are inserted are now also directly implemented as such.
When inserting formatted content, there is now a query whether the content should be formatted and inserted as plain text.
Images, videos and buttons / links can be dragged & dropped in the editor. Also in table cells.
Inserted images can be replaced at any time by another image.
Inserted images can now easily make additional linkable.
Images copied from the other pages are now integrated directly when pasting as an image.
Integrated search and replace function.
(For HTML experts) With the new editor iFrames are automatically activated. No more need to ask.
The editor window now adapts much more intelligently to the size ratios of the screen.
(Attention!) The editor is now finally accessible for small screens.
The generated HTML code now needs at images and no unnecessary auxiliary elements. This brings clean code and increases the quality.
If I select something and switch to the source code view, you can see there directly also the location of the HTML element concerned.
(For HTML experts) The substructure of the source code view now work with a different technology. I.e. sections can also be shown and hidden there. And also an autocomplete for input is already included.
And much more....
We wish you much success with the new way of working.