Blog Article
AppConfector presents: Singer Dean Collins and his app
"No matter if classical, jazz, rock, pop, blues, soul or heavy metal - it's always about feelings"
Interview with and information about Dean Collins, his music and his App!
Dean Collins. Mister 101 percent: charming autodidact and multi-talent with heart. If you read his name and listen to his music, you hardly believe that Dean Collins was born in Germany. But in fact, the 40-year-old singer, guitarist and songwriter comes from Bremerhaven instead of the USA. That makes him even more likeable, we think!
When did you start singing?
Already as a five-year-old, I ran through the apartment with a salt shaker and sang to the hits on the radio. Later, I built a drum set out of "Dash" detergent containers. My father bought a home organ, which I used more often than he did, and with it I taught myself the most important harmonic relationships at the age of 10-14. In my first rock band at the age of 15 I found playing guitar more effective and taught myself after some guitar teachers despaired of me. Until today I see myself more as a guitarist and songwriter. But singing is now somehow part of making my songs sound - so I've always been singing - not well - but loud!
How did your musical style develop?
I've always enjoyed making music. In the parental home this was also supported, although no one in my family plays an instrument or sings. I am very grateful to my parents for always letting me do what I wanted. Almost all my instrument wishes were fulfilled until I was able to pay for them myself. I also don't see my music as "pure" country music. It's more a mixture of everything I listen to privately - and that goes from Springsteen to Eminem to Abba, Eric Clapton and especially the Eagles. There is also no bad music genre for me. Whether classical, jazz, rock, pop, blues, soul or heavy metal - it's always about feelings and if these are transported qualitatively well, then it is good music for me.
"I am called among colleagues Mr. 101% and I think that's still at least 101% too little." ~Dean Collins
Who are your fans?
I wouldn't limit my fans to one country or one target group. However, I think they are most often people in the 30+ age range. Music lovers of handmade music and impulsive live shows, who like rough edges as much as smoothly produced. People who are open to different styles and to whom the trappings and a bombastic show are less important than a good song.
What else do you want our readers to know about you?
Through my collaboration with different artists, I am open to all genres. I therefore consider myself to be very tolerant. Whether that is true, however, is better left for others to decide. I am very impatient and that certainly gets on the nerves of many just as my urge to perfectionism. I am called Mr. 101% among colleagues and I think that is still at least 101 % too little.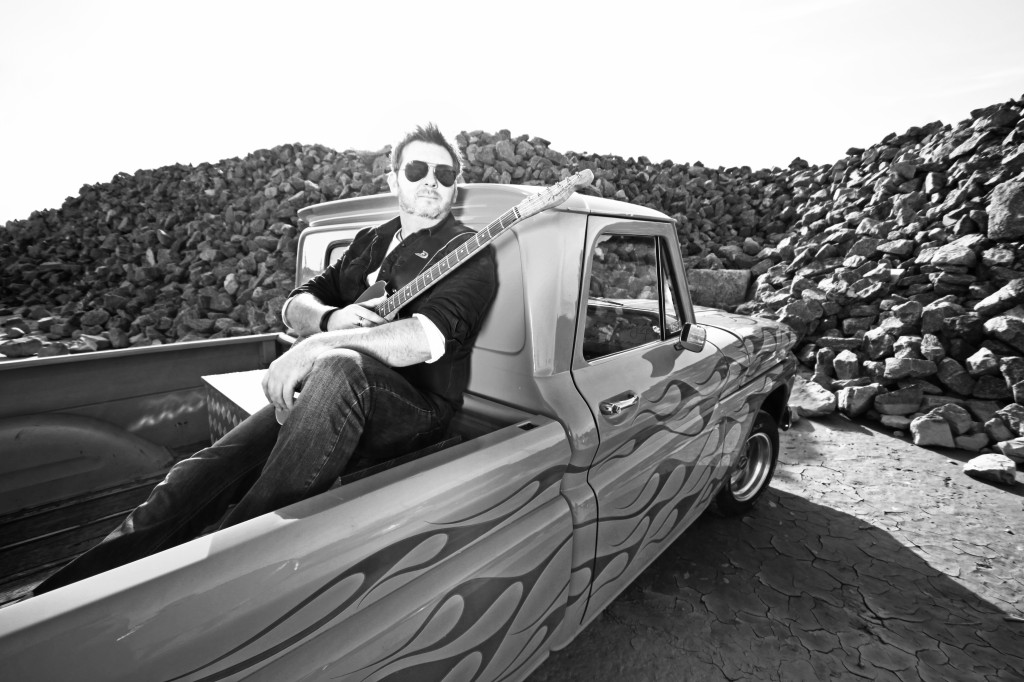 Dean Collins says he doesn't sing well, but loudly. Here, however, he proves that he can also sing quietly and that, on the contrary, he even sounds very good. What do you think? Listen times purely:

YOUTUBEVIDEO
Since May the Dean Collins App is available to fans. Since then, it has already been downloaded over 100 times and is used an average of 20 times a day. Since then, it has already been downloaded over 100 times and is used an average of 20 times a day.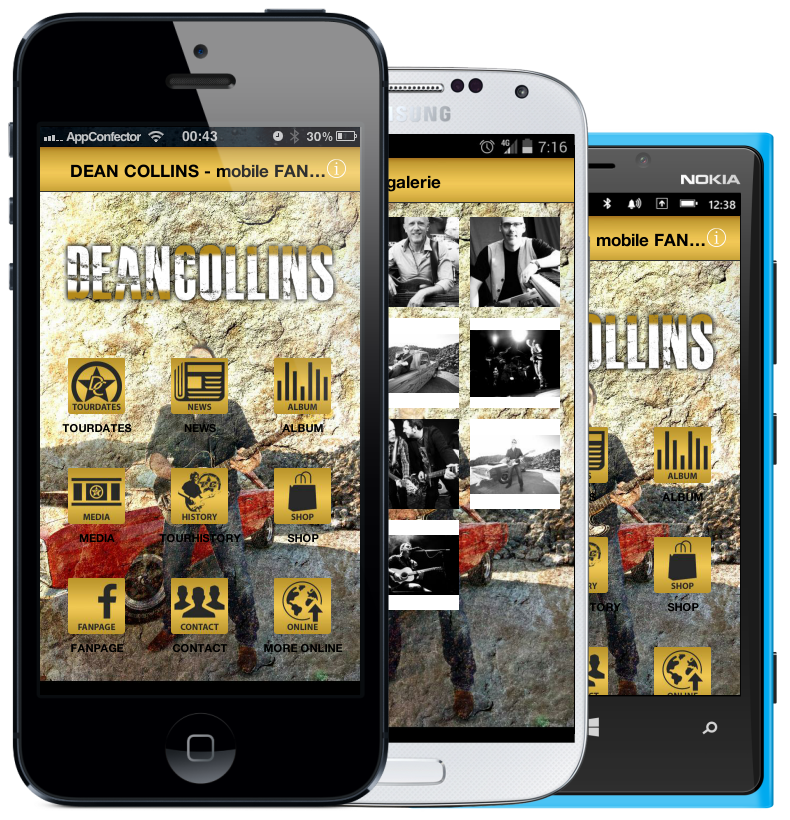 "And this despite the fact that we have hardly made any advertising for the app. We find that amazing and are already excited about how the numbers will be when we will advertise extensively for it,"
says Thomas Rühl, marketing manager of Dean Collins. And how the app is received by fans, he also answered us right away:
What do you use the app for?
Both as an app for our fans and as a mobile web version for internet presentation www.deancollins.us, because today more than 42 % of all users now use mobile devices. This is also true for our fans. In the future, we'd like to incorporate even more interactive features. There are already enough ideas floating around in our heads and it would be nice to implement them with AppConfector
Which function is most important to you?
Actually, all building blocks play an important role. Only in the context and with the individual functions the app becomes so interesting for the "user" also at least once a day to look in to get news. That's what it's all about in the first place, to be constantly in dialogue with the fans.
"We experience funny stories on tour and in the studio all the time. We're working on sharing a lot of funny videos from our daily musician lives with fans through our app." ~Dean Collins
Where do you see the benefit, Mr. Rühl?
Whether it's the integration of videos, images, shop or other building blocks, this app allows us to reach our fans exactly where it matters. Our fans get here the possibility to receive news and tour dates immediately and everywhere. Those who don't know Dean Collins yet will get to know a lot through the app. Fans can order fan articles and CDs or call up lyrics to sing along at concerts. Also our "History" and "Famous Last Words", which are popular with the fans, could not be missing in the app. Of course, one must not forget the integration of our Facebook page which can be visited via the app without having to be logged in or registered with Facebook.
"No matter whether the integration of videos, pictures, store or other building blocks, with this app we reach our fans exactly where it is important." ~Thomas Rühl, marketing manager of Dean Collins.
How satisfied are you with the app and its functions?
Super app, super support = 1.0 plus and we hope that good functions can continue to be programmed to it in the future. Ideas are abundant with us.
Do you advertise your app to your fans?
Of course, the app is made for fans and they have to know about the app to use it at all. We therefore advertise on the Internet site (including automatic redirection for mobile device detection), at Facebook, at concerts in email signatures, and from the next print ad via QR code.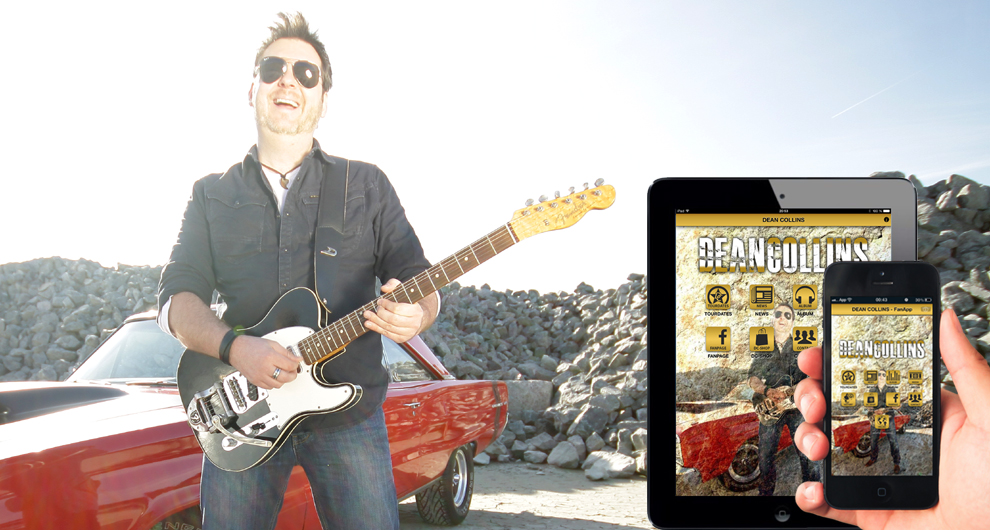 More info on Dean Collins and his band can be found here:
Homepage: http://www.deancollins.us
Facebook: http://www.facebook.com/deancollinsfanpage
YouTube: http://www.youtube.com/user/DEANCOLLINS2009
Onlineshop: www.shop.dean-collins.de
Download the app here:
http://dean-collins.zur-app.en/
By DEAN COLLINS & BAND
gets AppConfector a
1+
Sincerely
Dean Collins
Thank you Mr. Collins!
We think the mobile success of a company, no matter what kind, is the most beautiful compliment and our strongest motivation to constantly improve and develop on the pulse of time. More detailed testimonials from our entrepreneurs can be found here: GoWildWest, Villa-Fit
If you found this article helpful, please feel free to leave us a comment and share it. Thank you