Blog Article
The 5 most important reasons for an enterprise app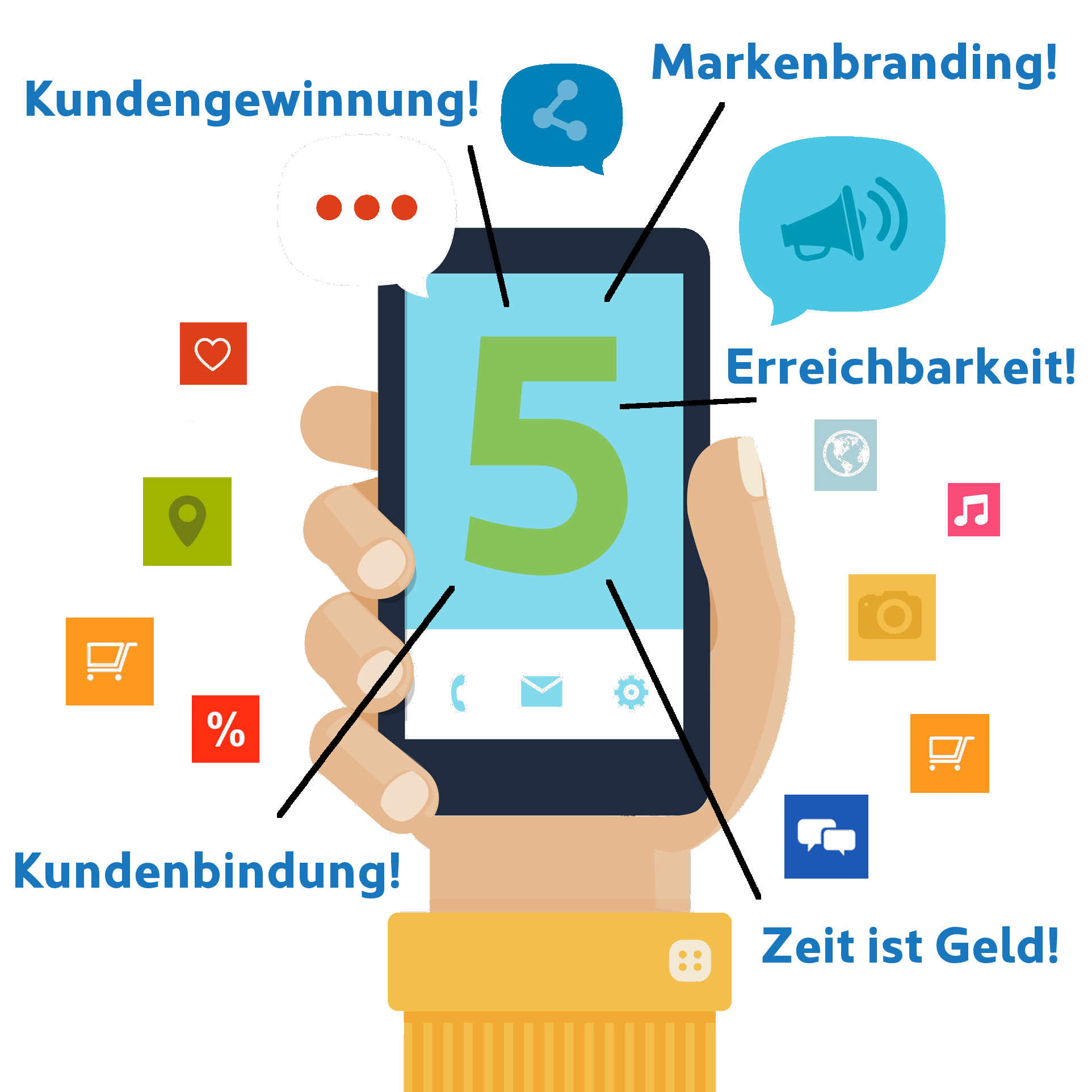 An app is your door opener to the most direct customer access ever: His cell phone!
Our world is going mobile. Better said: It already is. Friends, acquaintances, us and even you always have your cell phone with you. We also research, contact, play, call and buy more and more often via our cell phones. The smartphone market is booming and so is the app industry. Keep up with your customers' mobile needs.
All good things come in 5! We have therefore summarized the five most important reasons for a company app:
1. Direct accessibility:
Whether with advertising or news about your company, smartphone users usually reach you faster via an app than via other channels. You can place product and service offers specifically on the cell phone displays of your customers and prospective buyers. And since most people now always carry their cell phone with them, you can reach your customers virtually immediately and everywhere.
2. Customer loyalty:
More and more people are shopping exclusively online and using their smartphone to do so. Keep these customers with your business by offering them the service and benefits of an app. Prospective buyers who download an app are ready to take action. You can engage your app users directly and, for example, encourage them to buy with special offers for ordering via the app. With an app, your customers can conveniently shop with you or make appointments with you from their cell phones at any time. They don't have to go through the hassle of searching for your website via the browser on their smartphones, but always have your offer and all the latest news right at their fingertips.
3. Brand Branding:
The app icon with company logo on the smartphone display calls your company to mind every time your customers look at their phone. This solidifies your brand in the mind and subconscious of your customers. In addition, installed apps are displayed directly as the first thing in a search, additionally reminding your customers of your brand.
4. Acquiring new customers:
The modern customer likes to search spontaneously for companies and services in the area using their smartphone while on the move and from home. However, company websites are often not designed for smartphone display. Poor display and long loading times lead to frustration and migration to the competition among potential new customers. Don't give away this valuable opportunity to acquire new customers. With an app that also functions as a mobile website for your company, you can reach new customers with your offer quickly and easily. Because without unnecessary download or password entry, the searcher gets through the integrated Intelligent Forwarding directly to your app, which is optimally designed for viewing in the smartphone.
5. Save valuable time:
Time is money! Every entrepreneur knows that this is not just a phrase. An app saves you and your customers time. Order processes, appointment assignments and shipping confirmations run automatically, coupons and news are sent with just a few clicks. The customer does not have to adhere to office and opening hours, or search for your website, and can also order at any time.
Apps are a new and important communication channel that is about to overtake previous communication channels such as telephony or email. An app should therefore always be an extension of your company, its products, services and personality. What information should my app contain? What service will enrich my customers' buying experience? Ask yourself these questions when creating your business app.
Find more helpful tips on app creation in the following blog post: App-solutely-kids-easy!
Follow us already on Twitter and Facebook? We are always happy to welcome new fans and followers!