More questions? We have answers!
For quick and detailed help, it is best to use our new Help Center.
Your one-stop shop for news, product updates, an extensive knowledge base, and an emerging Digital Academy, with lots of tutorials and concrete action guides for successfully using the product.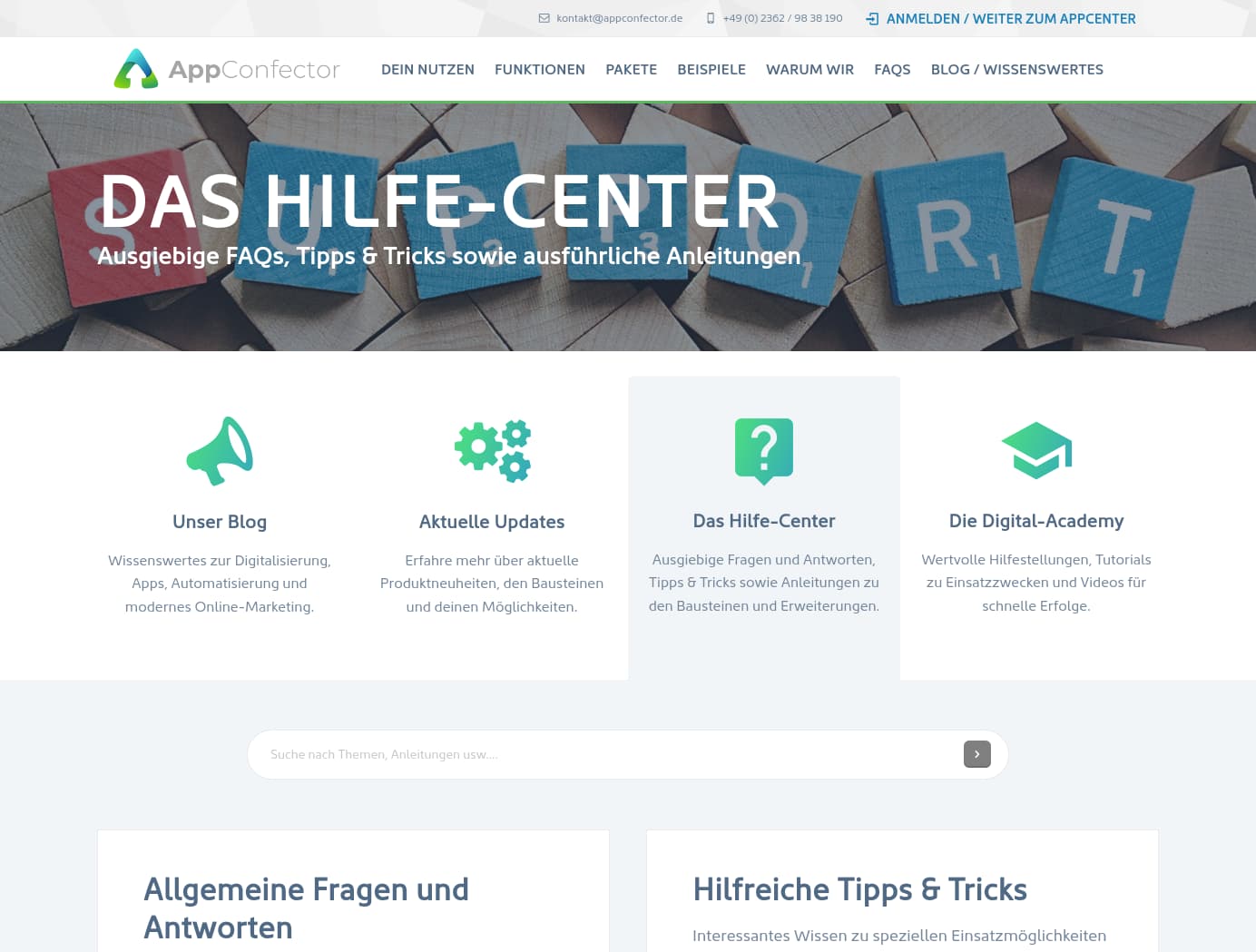 Why do I need an app?
See Your Benefits.
How much does an app cost with you?
We offer suitable packages for all purposes. An upgrade is possible at any time in the later course. More at packages.
What can our apps do better?
Below are a few points that distinguish us from our competitors:
Our apps move with the times, without detours your app enjoys a constantly growing range of functions.
You distribute your app without annoying app stores with an easy to remember address like kfz-meier.zur.app.
In addition to iPhone, iPad and Android phones as well as tablet, desktop PCs and Macs, your your app will support more and more modern digital devices in the future.
Although our apps are based on new web technologies, they also work without any problems without an active Internet connection on the cell phones of your customers and prospects.
If you no longer like the design, structure or content of your app, simply maintain something new in your own administration area of the app. new one.
The function blocks you use become more intelligent. These support your customers and prospects in the selection of your products, so that they will be more likely to more likely to visit you in the future.
What are function components
The enterprise app you create consists of so-called function components. These provide different functions within the app. Each menu item in your app is such a module.
Which function components are available?
You can find an up-to-date overview of all building components at Various possibilities, powerful building block.
How do customers get to our app?
Every digital app created by us is accessible via a globally unique Internet address. As a rule, this contains the name of your company and the appendix "zur.app". Alternatively, individual domain names can also be stored. Customers and interested parties can call up your app directly in the Internet browser of their of their cell phone. The fixed installation on the main screen (homescreen) takes place via a installation on the main screen (home screen) of your of your customer. This way, you always have your customers at hand.
What is smart forwarding and how do I integrate it?
With intelligent redirection you get potential customers, who already come to your website with a cell phone. In this case, visitors are automatically redirected to your app. Since websites are often not optimized for mobile screens, many visitors leave the pages again relatively quickly.
To set it up, all you need is an HTML command that is simply embedded in your existing web page website:
<script type="text/javascript" src="http://nameofapp.zur.app/RedirectIfMobile"></script>
How does the installation work on an Android?
Please use the simple procedure used in the installation dialog.
On which phones can our app be used?
Currently, you can run your app on iOS devices (11.0 and above), such as iPhone 6, 7, 8 and the X as well as all current Android devices (from version 5), such as Nexus 7 and Samsung Galaxy S6, 7, 8, etc.